Portraitiste reconnu et figure incontournable dans le monde de la photographie publicitaire, David Ken est l'auteur du LOLPROJECT
On le définit souvent comme un photographe positif, utopiste et engagé.
Né en Belgique, David Ken a vécu à Bruxelles, Milan, New York, pour enfin se fixer à Paris.
« J'ai choisi la Tour Eiffel comme clocher de mon village, Paris est la plus belle ville du monde »
À 23 ans il démarre sa vie de photographe par la mode, presque par accident, et collabore très vite avec les plus prestigieux magasines parmi lesquels, Vogue Italie, Harpers Bazaar, Amica, Grazia, Elle, Cosmopolitain…Il croise le chemin de Linda Evangelista, Estelle, Claudia Schiffer ou encore Laetitia Casta
Ses images sont très vite remarquées grâce à son style en mouvement, additionné d'une émotion toujours sincère.
De nombreuses marques dans le monde ont été séduites par son regard : Lancel, L'Oréal, EDF, SFR, Crédit Agricole, ENGIE, AXA Banque, BNP, Functionnalab , Coca-Cola, Jacob, Josef, Nice Klaup, Connexion, TF1, Pages Jaunes , Auchan, Adidas… pour ne citer qu'elles…..
Parallèlement à son activité dans la mode et la publicité qu'il exerce entre l'Europe et l'Amérique du Nord, il prend le temps de développer ses projets personnels, toujours centrées sur l'humain.C'est avec William Lafarge (Directeur de création de l'Agence Pueblo), qu'il imagine le concept photographique des "ANGES GARDIENS" où toute personnalité venant en aide à la lutte contre le cancer est représentée et transformée en Ange. Pendant plus de quatre ans, il photographie bénévolement, célébrités et anonymes impliqués dans la lutte contre le cancer (de Nikos Aliagas à Arthur, Valérie Damidot, Michel Jonaz, Omar et Fred…, donnant ainsi naissance à une formidable Galerie d'Anges Gardiens pour la lutte contre le Cancer.
Septembre 2009, au coeur de la crise financière, David Ken s'attaque avec son complice William Lafarge, au « LOL PROJECT », immense galerie de portraits sur l'instant magique du « lâcher-prise »!
Amoureux passionné de « photographie de rue », son autre projet, toujours basé sur l'humain, » FACING PARIS » donnera naissance bientôt à un nouveau livre …Début 2014, il entame un nouveau projet de livre « Traits pour traits » en collaboration avec l'écrivain Nicolas Gouzy, où il racontera les dessous de 25 années de portraits, de rencontres parmi lesquelles, Steven Spielberg, Jean Rochefort, Naguy, le boxeur « Sydney Beau Jack Walker »… à suivre
Sa devise : « Le meilleur est à venir »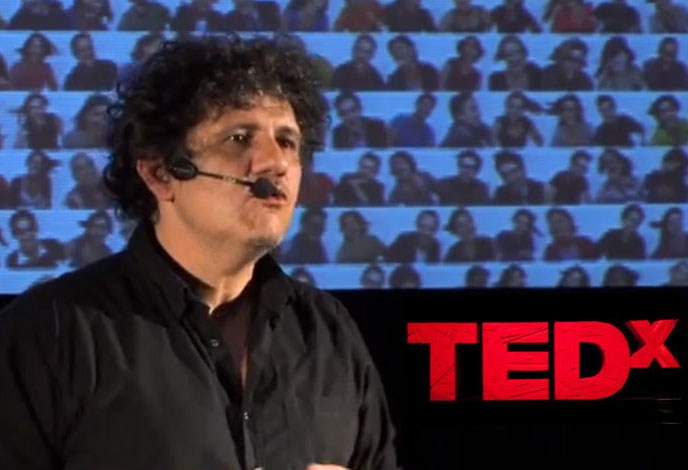 EVENEMENTS et liens

Je suis juste un citoyen qui fait sa part, le mieux possible. (David Ken)
Dossier de Presse du LOLPROJECT/ I LOL PARIS
Juin 2011: Exposition des photos au Forum des images à Paris
Conférence TedX Dunkerque 2011 : deux récits portent sur le LOL Project : l'histoire du LOL Project par William Lafarge et l'expérience du LOL Project par David Ken·
Décembre 2011: Sortie du premier livre du LOL Project contenant plus de 2 000 portraits :
Décembre 2011· Présentation du LOL PROJECT aux CreativeMornings Paris : juillet 2012
Novembre 2012· Exposition LOLPROJECT au Forum Mondial de l'Economie Responsable à Lille
Avril 2013: David Ken est intervenu à l'Université de la Terre à l'UNESCO à l'occasion de la 5ème édition qui avait pour thème : « Le meilleur est à venir »
Décembre 2013, sortie du Calendrier de la Ligue contre le Cancer
Février 2014: Exposition LOLPROJECT à l'Espace Cardin à Paris pour la « Nuit de l'optimisme ».
En mars 2016, il expose son LOLPROJECT dans le métro parisien pendant 3 mois, elle sera vue par 12 millions de franciliens !
Définition d'un photographe optimiste:
« Si ma femme me demande s'il fait beau aujourd'hui, je lui réponds F8 250/sec »
David Ken
LOL « Laughing Out Loud » ou mort de Rire en Français. (Wikipedia)
Chaine vidéo sur YOUTUBE: https://www.youtube.com/my_videos?o=U
Chaine vidéo sur VIMEO: https://vimeo.com/davidken/videos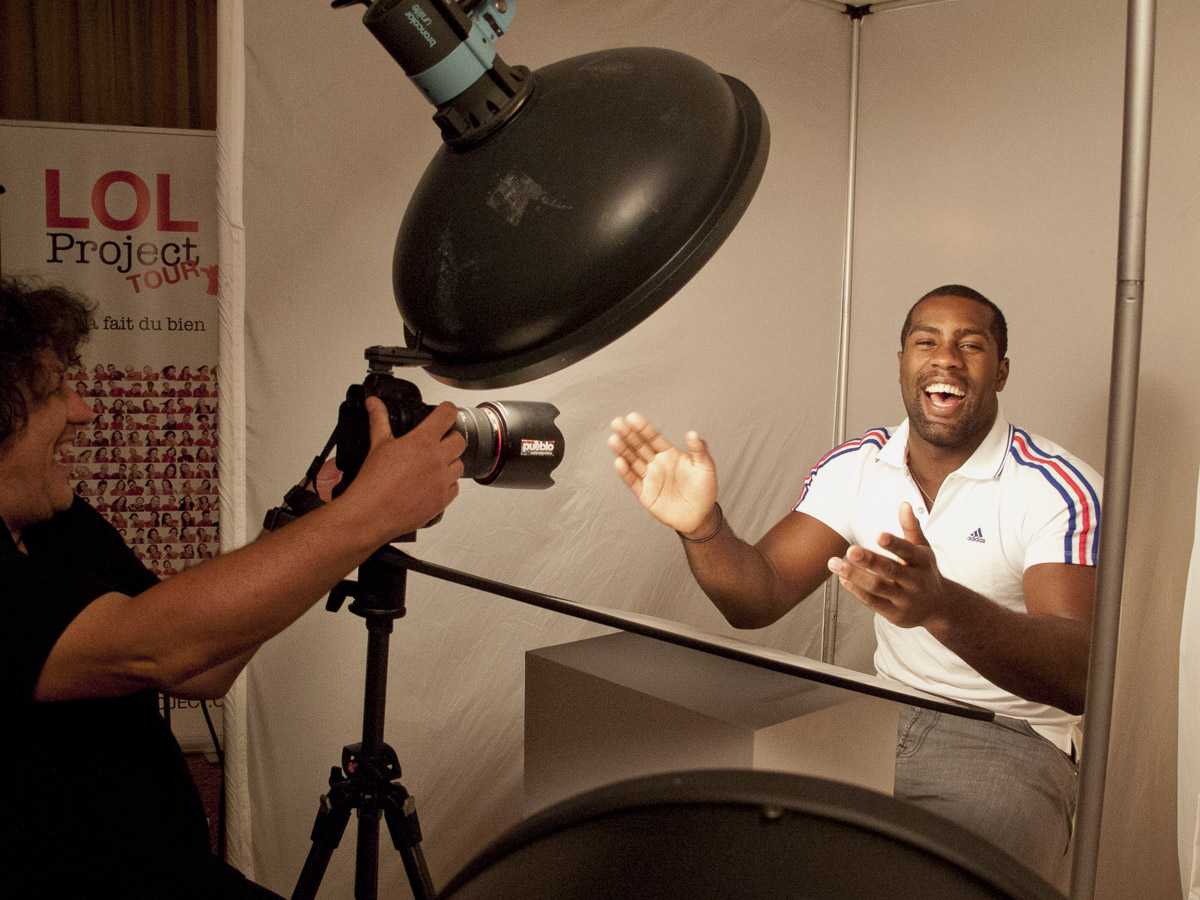 The creator of the LOL Project is often defined as a positivist photographer and incurable utopian.
Portraitist and fashion photographer David Ken was born in 1962 in Belgium. He has lived in Brussels, Milan, New York and Paris, where he's finally set his bags down for good.
He began his work in fashion photography at 23, practically by accident, and quickly moved up to working with the most prestigious magazines in the world, including Italian Vogue, Harpers Bazaar, Amica, Grazia, and Elle. His photographs are characterized by his way of capturing motion, coupled with touches of sensuality and deep emotion.
A number of famous brands have been seduced by his distinct style, including Lancel, L'Oreal, EDF, SFR, Credit Agricole, Functionnalab, Coca-Cola, Jacob, Joseph, Nice Klaup, Connection, TF1, Yellow Pages, Auchan, and Adidas — just to name a few!
Between his activities in Europe and North America, David also takes time to develop his own projects, which are always human-focused. If humor and irony are often captured in the faces of those in front of his lens, the spirit of his work is nevertheless always benevolent.
As an example, it was with Pueblo creative director William Lafarge that he developed the « Guardian Angels » exhibit, where famous personalities were photographed as angels. Proceeds went to to the fight against cancer. Those photographed over the course of four years included volunteers, sports figured and celebrities like Nikos Aliagas Arthur, Valerie Damidot, Michel Jonaz, and Omar and Fred, yielding a diverse and colorful gallery of Guardian Angels.
In 2009, he began a vast project called « FACING PARIS », a mural fresco in black and white that traces 10 years of Parisians' daily lives. His exclusive use of wide-angle photos also gives a central place to human forms.
Also in 2009, at the start of the financial crisis, David and his partner William Lafarge began the « LOL Project », an ongoing portrait gallery capturing people from all walks of life in the midst of genuine laughter.
The approach: Witnessing and experiencing laughter, that magical moment of letting go, where all control of our image is lost. David believes that the reflection we're left with is closest to who we truly are — an uninhibited self.
The cast: Anyone of any gender, age, color, religion and social group can get involved via Facebook.
How it started: through acquaintances, both famous and lesser-known, before spreading to a wider pool of friends, friends of friends … and hopefully now to you!
The performance: twofold. The trick is to generate genuine laughter, then capture a unique and rare portrait of that moment: one that David believes to be enlightened and beautiful.
The success of the first LOL Project exhibition took place at the Forum des Images in Paris on July 2011. Since then, the LOL Project Tour has traveled over 6000 km, through 22 cities in France, in partnership with the Yellow Pages. These are just the beginning steps toward « I LOL Paris », an event in which David dreams of filling the streets, buildings and public transportation of Paris with imagery of its laughing inhabitants.
For more on the LOL Project, visit the Wikipedia page: http://fr.wikipedia.org/wiki/LOL_project