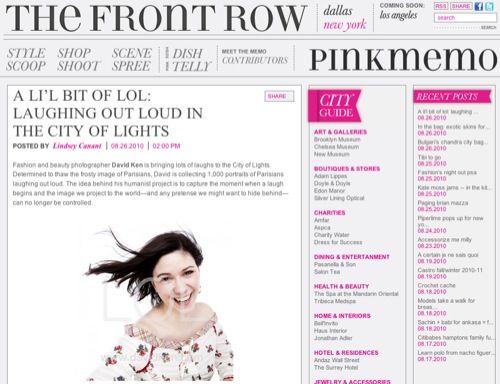 Fashion and beauty photographer David Ken is bringing lots of laughs to the City of Lights. Determined to thaw the frosty image of Parisians, David is collecting 1,000 portraits of Parisians laughing out loud. The idea behind his humanist project is to capture the moment when a laugh begins and the image we project to the world—and any pretense we might want to hide behind—can no longer be controlled.
His website asks "A qui le tour?" – "Who's next?" For the LOL Project, David photographs anyone and everyone from the anonymous to the famous of any age, sex, religion, gender, and social class for free. He only asks that volunteers become a fan of the project on Facebook and leave their contact information. He then contacts them for impromptu photoshoots, works his magic to elicit a unique, uncontrolled laugh in his subjects, and takes a glowing portrait. In just under half an hour, participants leave with a great memory and a beautiful image of themselves. When his 1,000 portraits are complete, the photographs will be displayed in the city of Paris.
Take a look at some of the portraits he's taken so far. (We dare you not to smile. It's contagious!)
Having photographed nearly 1,000 laughing Parisians—in less than a year!—David hopes to turn the LOL Project into a worldwide phenomenon. The next city on his jovial journey: New York City. It's time to start stretching those smiles! They're about to get a workout.
Follow him on Facebook or Twitter to be among the first to know when he starts the search for NYC volunteers.